Lori Kreutzer of Crystal Healing Concepts has been helping Arizona clients heal with Crystals & Reiki since 2015.
Crystal Healing is an ancient, natural healing method using crystals, gems and other healing stones placed on and around the body.
Services she offers at her office in Green Valley, Arizona (just 20 minutes South of Tucson) include:

Crystal Therapies
Reiki
Laying on Stone
Auric Clearing
Chakra Balancing
Energetic Imprint
Crystal Infused Massage
Amethyst BioMat
Crystal Gridding & Energy clearing for homes and office spaces available.
What is the goal of Crystal Healing?
Achieving greater wellbeing, harmony, and balance throughout the mind, body & spirit.
During a crystal treatment session, Lori will place various stones or crystals on the client's body and align the chakras as well as other areas that may be needed, depending on the desired healing.
The crystals that are being used and their positioning will be selected specifically by Lori to aid in shedding negative energy, absorbing positive energy, and correcting imbalances within the client's energetic system.
The crystals and gemstones are placed on specific energy points (chakras) on the body as well as around the body to release negative energy, blockages, and emotional congestion allowing the person to self heal and the mind and body come back into balance.

Benefits of Crystal Healing
Each session is unique and people report a variety of experiences. Individuals have experiences relevant and unique to his/her own condition, needs, and level of awareness.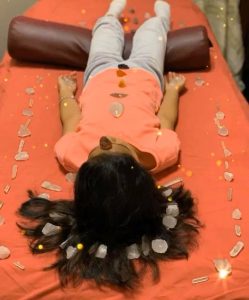 Common experiences from crystal treatments include:​
Deep relaxation and increased energy
Stress relief and increased ability to focus
Reversal of chronic pain & illness (requires many visits)
Mental disorders including bi-polar, ADHD & more
Clearing of core issues causing present challenges
Enhanced senses
Redefined sense of life purpose
Feeling of peace and well-being
My intention here at Crystal Healing Concepts is to offer you the highest quality of services.  To be a channel of positive healing energy and intuitive guidance helping empower, guide and support you on your transformational healing journey in a safe, clean, judgment free environment.
Full Body crystal energy layout
Adult 1.5 hours – $120+
Full Body crystal energy layout & body work
Adult 1.5 hours – $160+
Crystal infused massage
1.0 hour – $80
1.5 hours – $120
2.0 hours – $160
Call Lori today at 575-956-3338 to book your appointment